Carel Kraayenhof and Juan Pablo Dobal
Carel Kraayenhof became known to the general public thanks to 'the tear' of Queen Maxima. Pianist Juan Pablo Dobal drank the folk music of his homeland Argentina from his earliest youth. Since 2010 he is the regular pianist of Carel. Together they travel the oceans to conquer the world with Argentina's most beautiful music.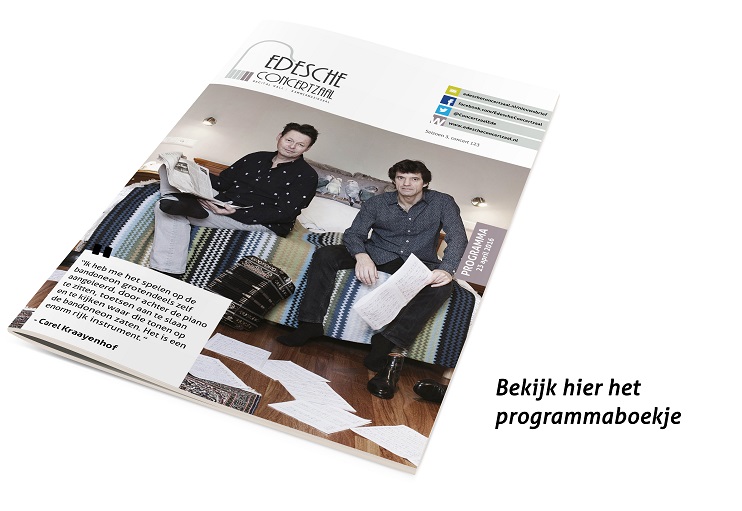 Hotel Victoria
Something like this happened regularly at the famous Gran Hotel Victoria in Buenos Aires. This illustrious hotel was the meeting place of many musicians and artists who sought their fortune in the great metropolis and who were on the eve of the great international tangorage. In this closing concert, Carel Kraayenhof and Juan Pablo Dobal transform the stage of the Edesche Concert Hall into the illustrious lobby of Gran Hotel Victoria. And of course the famous tango Hotel Victoria (1906) by pianist Feliciano Latasa cannot be missed.


Like a sailor
Bandoneon player Carel Kraayenhof feels like a sailor through all that wandering: "On the way home I long for home and at home I long for the next trip. In England I eat scones, in Spain paella and in Ireland I drink Guinness. I take all that back home, it enriches my own life.
(Interview Carel Kraayenhof, read this interview)
---
Kamermuziek
lichte muziek
piano
bandoneon
Hotel Victoria
wereldmuziek